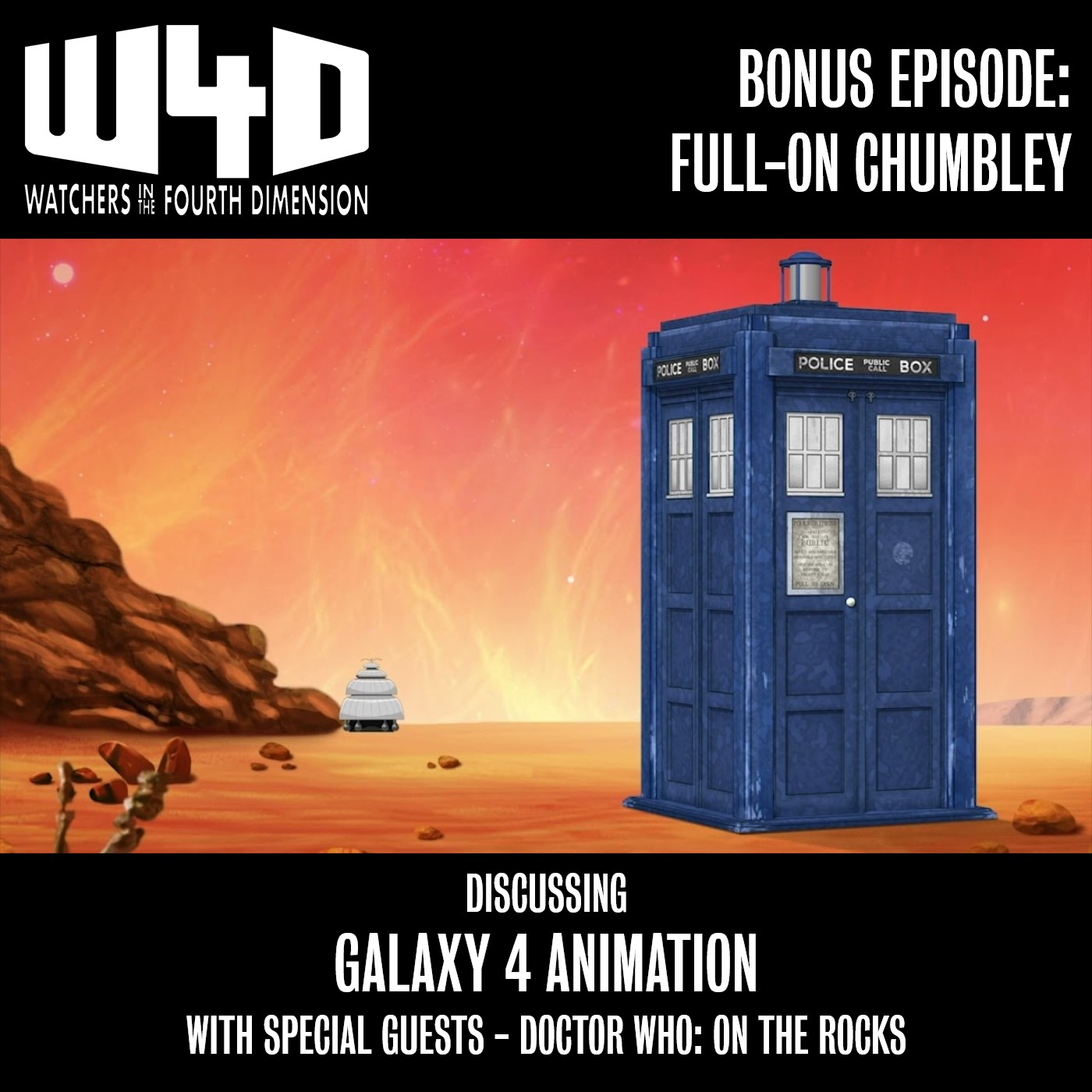 For a very special bonus episode, we are joined by our friends Diana and Jenn from the Doctor Who: On the Rocks podcast as we jump back to the Hartnell-era to discuss the recent animation of Galaxy 4! Taking a best of both worlds approach from our two shows, we kick off the episode by discussing the Penderyn "Celt" whisky, Anthony talks about the story's journey from being lost to animation, we launch into a robust discussion about the animation, re-rate the story, and make the all-important determination of whether the story is "neat or not?"
Along the way, Anthony feels pride in the Welsh half of his heritage, Diana expresses her love of Steven's sass, Reilly tries to annoy Don through his viewing preferences for the animation, Julie fixates on Steven's floofy hair, Don gets nostalgic for non-synth music, and Jenn compares the Doctor to the Quaker Oats man. We all find ourselves disappointed in the design of all the humanoid characters.
Since not everyone may be interested in hearing us talk whisky, here are the segment timestamps for this episode:
Intro: 00:21
Whisky of the Week (Penderyn "Celt"): 2:57
Galaxy 4 Background Information: 16:14
Galaxy 4 Animation Discussion: 19:40
Ratings: 53:17
Is it Neat?: 59:24
If you would like to watch along with us, you can find the animation on DVD and Blu Ray from Amazon UK (https://amzn.to/3ekEFOl) and Amazon US (https://amzn.to/3mu1AeO). At the time of the release of this podcast episode, the animation is not yet available to stream.
If you'd like to listen to our original thoughts from when we first discussed the reconstructed version of this serial, you can hear them in our 20th Episode, A Fascist Version of Dusty Springfield.
You can find our friends from Doctor Who: On the Rocks on Podbean (https://mediaontherockspod.podbean.com/), or wherever you like to get your podcasts.
Other media mentioned in this episode:
Finally, you can follow us and interact with us on our social media accounts - Facebook, Instagram, and Twitter. You can also e-mail us at watchers4d@gmail.com. If you're enjoying this podcast, please subscribe to the show, and leave us a rating or review.