Episodes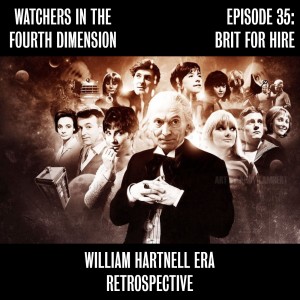 Sunday Jun 14, 2020
Sunday Jun 14, 2020
Having made their way through the entirety of the William Hartnell era of Doctor Who, the Watchers in the Fourth Dimension are joined by a guest host for the very first time, as R Alan Siler moderates a retrospective discussion of the entirety of the era.
Over the course of the discussion, the crew touch on a wide range of topics, including which missing story would benefit the most from animation, the most challenging or radically different episodes of the time, and how the era reflected the socio-political situation of the time. Anthony and Don manage to get their final blows in against Richard Martin and John Wiles, respectively. Finally, things get rather silly when Alan surprises everyone with a few rounds of "Snog, Marry, Avoid!," with some rather outrageous options.
Other media mentioned in this episode:
Alan's work can be found at the following links:
Finally, you can also follow us and interact with us on various forms of social media - Facebook, Instagram, and Twitter. You can also e-mail us at watchers4d@gmail.com. If you're enjoying this podcast, please subscribe to the show, and leave us a rating or review.